Reunited with Edison
Posted 14th February, 2013 in
Ben published an article today for Heartlight.org, called "Reunited." He tells the goose-bump giving story of how our family was reunited two years later with Edison, the sweet little boy whose house he visited in Ecuador. Read it.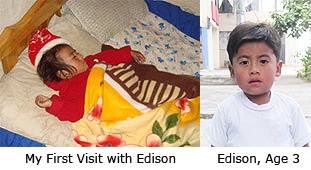 Compassion International is an amazing program -- and it's working! We can see it in the round little face of this boy who was so ill when Ben first met him, but through the work of the Child Survivor Program, and now the Child Sponsorship program, his is thriving and doing well!
It's Valentine's Day. What better day is there to dedicate your love to someone who needs it? Consider sponsoring a child through Compassion International.